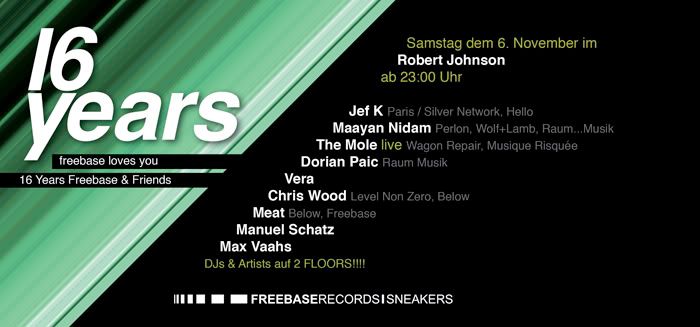 jetzt sind auch bald die 16 Jahre geschafft und wir sind kein bisschen leiser.
Seit nunmehr fast 16 Jahren ist Freebase Records Anlaufstelle für Musikliebhaber und DJs aus allen Himmelsrichtungen.
…Deswegen haben wir uns entschlossen in die große weite Clubwelt mit unserer Freebase & Friends Tour zu ziehen.
Den Startschuss dafür ist am Samstag dem 6. November im Robert Johnson ab 23:00 Uhr auf 2 Floors (Club & Lounge).
Mit von der Partie an diesem Abend werden Jef K, The Mole (live), Maayan Nidam , Dorian Paic , Vera, Chris Wood , Meat , Manuel Schatz und Max Vaahs sein.
Weiter Tourdates inkl. der folgenden Artists:
dOP (live), Raresh, Chris Wood, Jef K, Maayan Nidam, Vera, The Mole (live), Daniel Stefanik, Chris Tietjen, Dorian Paic, Christian Burkhardt, Einzelkind, Lauhaus, Johnny D, Meat , Markus Fix , Robert Dietz , …..
19.November 50 Grad / Mainz 26.November Stereo 621 / Mannheim 27.November Klangkino / Gebesee 3.Dezember Pratersauna / Wien 4.Dezember Bismarck Bahnhof / Hannover 10.Dezember Rave On Snow / Saalbach/Austria 18.Dezember Harry Klein / München 14.Januar Watergate / Berlin (tbc) 15.Januar Zukunft / Zürich (tbc) 29.Januar Definition:TON / Oelde
…..more coming soon….!!!!